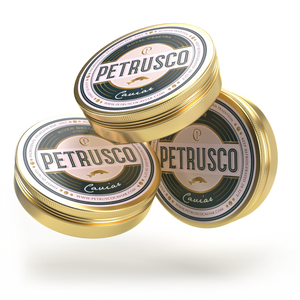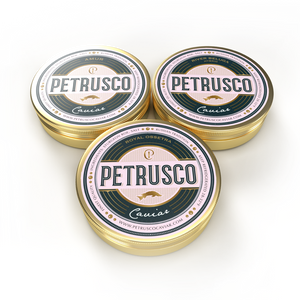 Regular price
$200.00
Sale price
$299.99
Can't decide which one of our premium Caviars to try next? Taste them all with our Limited Edition Tasting Pack featuring a 30g tin of each Royal Ossetra, River Beluga & Amur Caviar. Full of variety, it's the perfect addition to any special occasion or celebration. Get yours today!
Originally from the Caspian Sea, is the most popular variety of high-grade caviar. Ossetra sturgeon fishlings have since been relocated to aquaculture farms where they're now sustainably farmed.
These delightfully buttery eggs are best known for their nutty flavor and dark color—ranging from black to dark brown with shimmers of gold. A long-lasting flavor of the sea, as well as the perfect tinge of brine, make for a delicacy enjoyable both on its own and with a variety of foods. Its culinary versatility gives Ossetra caviar universal appeal and makes it a true delicacy for any occasion.
A luscious mixture of Kaluga and Shassetra sturgeon roe makes for exceptional caviar, commonly known as River Beluga.
A visual stunner, River Beluga Reserve has a deep golden jade coloring and is known for its balanced flavor, and the firm, yet creamy texture of each individual grain. The high-quality caviar is among the highest quality you can purchase in the USA.
Unique as it promises bold flavor with a distinct earthiness. While Amur sturgeon originates from the Amur river on the border of Russia and China, the species of sturgeon is believed to travel to and from the Sea of Japan, so it is commonly called Japanese sturgeon.
Its plump large pearls unfold a creamy texture with a long-lasting aftertaste. This roe is ideal for those seeking to experience new caviar flavors.
* If Amur is not available we will replace with Traditional Ossetra* 
Benefits
One serving of caviar has an adult's daily requirement of Vitamin B12 and Other nutrients included are vitamins. Caviar is a source of vitamins and minerals, including omega 3, which helps to promote a healthy nervous, circulatory and immune system.
Is Caviar Tasty?
Really good caviar tastes less salty (which means it must be very, very fresh because it spoils easily). The really distinctive aspect of caviar is more about its texture. The eggs pop on your tongue, and the rich, slightly sweet taste oozes into your mouth and the flavor fills your nose.
Recipe Ideas
✔ Caviar. Poppy's Caviar.
✔ Pasta + Noodles. Caviar Carbonara.
✔ Eggs. Fried Eggs with Jamón and Caviar.
✔ Deviled Eggs. Deviled Eggs with Crab and Caviar.
✔ Waffles. Tater Tot Waffles with Smoked Salmon and Caviar.
✔ Oysters. Poached Oysters with Pickled Cucumber and Caviar.
Super Yummy!
Fantastic caviar. Can't wait to order more!
Superb
Outstanding servuga caviar
My first time
The 3 pack was a great deal. I have fully enjoyed 2 of the tins of caviar so far. I have not been disappointed and I will order again.
2 Thumbs up!
Wonderful Caviar. Containers are hard to open compared to the competition, but the product is unsurpassed!
Always Fresh
Our Premium Sturgeon is processed with best Methods and guaranteed to impress all Caviar lovers and this Caviar has a smooth buttery taste that pairs perfectly with fine wines and champagnes!
Always High Quality
Sixteen Steps including rose retrieving, screening, washing, draining, salting, etc. are finished in a short time under low temperature so as to control the influence of microbes.
Perfect for Any Occasion
This one of a kind product will be in great demand among high-end restaurants, bars, and individuals. Any relation, no matter how distant, to original Beluga caviar will definitely add exclusivity to any event, party or menu of an exquisite restaurant and will enhance any fine dining experience.
Packed With Nutrition
▪️ - Omega-3s
▪️ - Proteins
▪️ - Vitamin B12
▪️ - Vitamin A
▪️ - Vitamin B6
▪️ - Iron
▪️ - Magnesium
▪️ - Selenium
▪️ - Sodium