Petrusco River Beluga Hybrid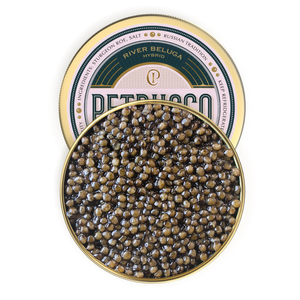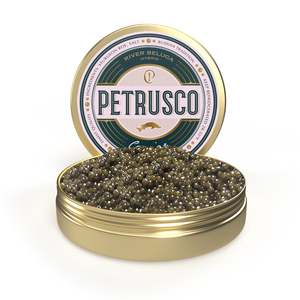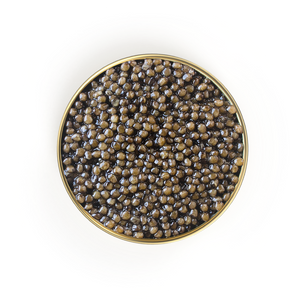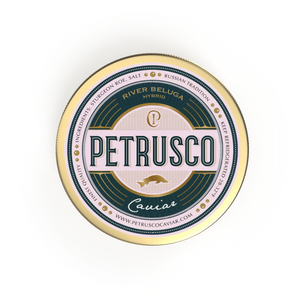 Petrusco River Beluga Caviar is a luscious mixture of Kaluga and Shassetra sturgeon roe makes for exceptional caviar, commonly known as River Beluga.

A visual stunner, River Beluga Reserve has a deep golden jade coloring and is known for its balanced flavor, and the firm, yet creamy texture of each individual grain. The high-quality caviar is among the highest quality you can purchase in the USA.
Flavor profile: Floral, fruity, and balanced
Texture: Firm and creamy 
Size: Large to Extra Large
Color: Dark amber with flecks of jade
Species: Huso Dauricus/Acipenser Shrenckii
Common name: Kaluga Huso Hybrid or River Beluga
Shelf life: Four weeks refrigerated
Shipping: Perishable – ships Overnight with Stay-Fresh™️ packing - Free shipping on all orders
Benefits
One serving of caviar has an adult's daily requirement of Vitamin B12 and Other nutrients included are vitamins. Caviar is a source of vitamins and minerals, including omega 3, which helps to promote a healthy nervous, circulatory and immune system.
Is Caviar Tasty?
Really good caviar tastes less salty (which means it must be very, very fresh because it spoils easily). The really distinctive aspect of caviar is more about its texture. The eggs pop on your tongue, and the rich, slightly sweet taste oozes into your mouth and the flavor fills your nose.
Recipe Ideas
✔ Caviar. Poppy's Caviar.
✔ Pasta + Noodles. Caviar Carbonara.
✔ Eggs. Fried Eggs with Jamón and Caviar.
✔ Deviled Eggs. Deviled Eggs with Crab and Caviar.
✔ Waffles. Tater Tot Waffles with Smoked Salmon and Caviar.
✔ Oysters. Poached Oysters with Pickled Cucumber and Caviar.
So So Good
I ordered the River Beluga and boy was it delicious! I will definitely order again. So yummy I ate it straight out of the tin.
my favorite caviar experience by far!!
I am not a caviar expert by any means, though i do have a lot of caviar experience across many different brands: Roe, Calsivius, Tsar Nicolai, Petrossian, the California Caviar Co., etc. Petrusco is by far my favorite caviar company to order from. Petrusco is the perfect intersection of quality and accessibility, offering incredible caviar at price points that many people can indulge in. They also have very responsive customer service and complimentary shipping, two things that set them apart from many other caviar brands.
As for the taste, it's delicious and not fishy at all. The caviar is buttery and smooth. I think the 100g tin is the best value, and it stays fresh for DAYS after opening. Tip: I carefully scoop the caviar into clean 30g caviar jars and go through one container at a time. I'm the only one who eats caviar in my household and this reduces the amount of temperature and air exposure to the caviar.
Definitely a wonderful delight!
We are so impressed!
We loved the amazing caviar!
Always Fresh
Our Premium Sturgeon is processed with best Methods and guaranteed to impress all Caviar lovers and this Caviar has a smooth buttery taste that pairs perfectly with fine wines and champagnes!
Always High Quality
Sixteen Steps including rose retrieving, screening, washing, draining, salting, etc. are finished in a short time under low temperature so as to control the influence of microbes.
Perfect for Any Occasion
This one of a kind product will be in great demand among high-end restaurants, bars, and individuals. Any relation, no matter how distant, to original Beluga caviar will definitely add exclusivity to any event, party or menu of an exquisite restaurant and will enhance any fine dining experience.
Packed With Nutrition
▪️ - Omega-3s
▪️ - Proteins
▪️ - Vitamin B12
▪️ - Vitamin A
▪️ - Vitamin B6
▪️ - Iron
▪️ - Magnesium
▪️ - Selenium
▪️ - Sodium