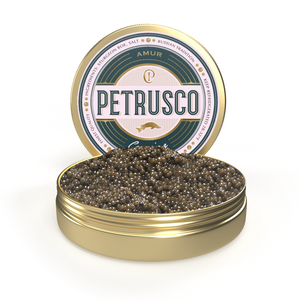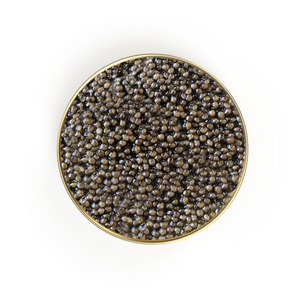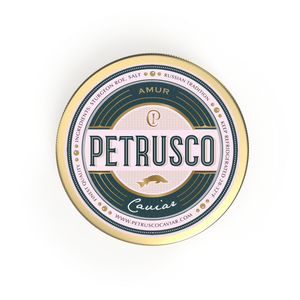 Amur Caviar is unique as it promises bold flavor with a distinct earthiness. While Amur sturgeon originates from the Amur river on the border of Russia and China, the species of sturgeon is believed to travel to and from the Sea of Japan, so it is commonly called Japanese sturgeon.
Its plump large pearls unfold a creamy texture with a long-lasting aftertaste. This roe is ideal for those seeking to experience new caviar flavors.


Flavor: Bold, nutty, earthy
Texture: Plump and creamy
Size: Large
Color: Dark brown
Species: Acipenser schrenckii
Common Name: Amur or Japanese Sturgeon
Shelf Life: Four weeks refrigerated
Shipping: Perishable – ships Overnight with Stay-Fresh™️ packing - Free shipping on all orders
Benefits
One serving of caviar has an adult's daily requirement of Vitamin B12 and Other nutrients included are vitamins. Caviar is a source of vitamins and minerals, including omega 3, which helps to promote a healthy nervous, circulatory and immune system.
Is Caviar Tasty?
Really good caviar tastes less salty (which means it must be very, very fresh because it spoils easily). The really distinctive aspect of caviar is more about its texture. The eggs pop on your tongue, and the rich, slightly sweet taste oozes into your mouth and the flavor fills your nose.
Recipe Ideas
✔ Caviar. Poppy's Caviar.
✔ Pasta + Noodles. Caviar Carbonara.
✔ Eggs. Fried Eggs with Jamón and Caviar.
✔ Deviled Eggs. Deviled Eggs with Crab and Caviar.
✔ Waffles. Tater Tot Waffles with Smoked Salmon and Caviar.
✔ Oysters. Poached Oysters with Pickled Cucumber and Caviar.
Always Fresh
Our Premium Sturgeon is processed with best Methods and guaranteed to impress all Caviar lovers and this Caviar has a smooth buttery taste that pairs perfectly with fine wines and champagnes!
Always High Quality
Sixteen Steps including rose retrieving, screening, washing, draining, salting, etc. are finished in a short time under low temperature so as to control the influence of microbes.
Perfect for Any Occasion
This one of a kind product will be in great demand among high-end restaurants, bars, and individuals. Any relation, no matter how distant, to original Beluga caviar will definitely add exclusivity to any event, party or menu of an exquisite restaurant and will enhance any fine dining experience.
Packed With Nutrition
▪️ - Omega-3s
▪️ - Proteins
▪️ - Vitamin B12
▪️ - Vitamin A
▪️ - Vitamin B6
▪️ - Iron
▪️ - Magnesium
▪️ - Selenium
▪️ - Sodium